La série Madagascar – The Madagascar Series
Tourné en 2011


À propos de la déforestation et du succès d'efforts de conservation écologique à Madagascar.  Le Happalémur gris fait un retour dans des forêts secondaires poussant sur d'anciennes rizières maintenant incluses dans le parc national de Marojejy.
J'ai fait ce petit documentaire par plaisir et parce que je rêve d'un jour faire des documentaires animaliers professionnellement.  J'ai voyagé à Madagascar durant l'été 2011.  Un guide engagé au bureau du parc national de Marojejy m'a fait visiter le parc à pied, durant une excursion de 5 jours.  Tout a été tourné avec une petite caméra de tourisme amateure prenant des petits clips de vidéo.
La musique est par Freeworm.  La track s'appelle Grand Manje, sur l'album "Vegetation = Fuel".  Mon album électro préféré de tous les temps.
//EN:
About deforestation and ecological conservation efforts in Madagascar.  The Eastern lesser bamboo lemur makes a return in the secondary forests growing on what was previously rice paddies.  The area is now included in Marojejy national park.
I did this little documentary for fun and because I dream to do animal documentaries professionally. I travelled in Madagascar during the summer of 2011.  A guide hired at the office of the Marojejy National Park made me visit the park during a 5 day trek.  Everything was shot with an amateur tourism photo camera taking little video clips.
The music is by Freeworm.  The track is called Grand Manje, on the "Vegetation = Fuel" album.  My favourite electro album of all times.
Plus d'informations:
Sur le hapalémur gris: article wikipédia
Sur le parc national de Marojejy: site non officiel sur le parc
Lieu presqu'exact du tournage: Google Map
More information:
On the Eastern lesser bamboo lemur: article wikipedia
On Marojejy national park: non-official site of the park
Almost exact location of the shoot: Google Map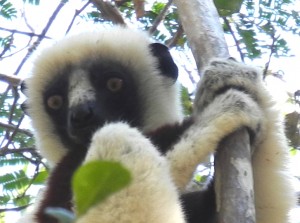 //FR: En passant, je montre des Sifakas de Coquerel dans le video.  Ce sont les lémurs les plus connus, probablement grâce à un personnage d'une populaire émission zoologique pour enfants.  Mais, ils ne vivent pas dans le parc de Marojejy.  Mes images ont été prises dans une forêt sèche du Nord-Ouest de l'île.
//EN: By the way, I show some Coquerel's Sifakas in the video.  They are famous lemurs, probably because of a character of a popular zoological TV show for kids.  But, they don't live in the Marojejy Park.  My images were taken in a dry forest in the North-West of the island.
Le reste de ma série sur Madagascar
The rest of my series on Madagascar