My first rickshaw – Varticle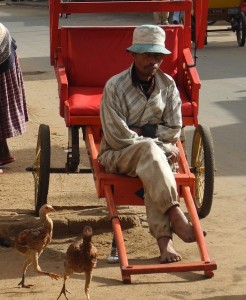 About the rickshaw drivers getting Antsirabe moving every day. And my encounter with 3 of them.
On a Malagasy schooner- Article and photo feature
About the simple sail boats used for merchandise and passenger transport on the West coast. And about my first trip on one of those.
The return of the lemurs – Video – (soon)
About deforestation and reforestation in the tropical jungles of the East coast. Starring the grey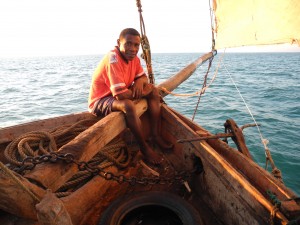 hapalemur or bamboo lemur.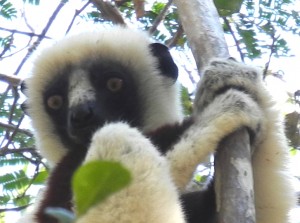 In Madagascar's psychiatric hospital – Video – (trailer available)
About the only psychiatric hospital of the island and its enormous difficulties linked to a lack of financing. I also talk about corruption in this one…
Prostitution in the third world – Varticle
Dirty bashing on the occidentals who, according to me, destroy the Malagasy social fabric with their fat-bellied libidos and their stinking money. If you want journalistic and clean information, look for it somewhere else. Warning, the text horribly describes sexual acts. PG-18.
Young Vezo sailor wants beautiful and adventurous Vazha – Varticle – (soon)
26 yo, 6'4″, no kids, likes shark fishing, being laid back, rides in sail pirogues and playing guitar. Looking for a lady that will like him even though his skin is a bit too pale…
And more, according to what I want to edit…
To verify what I write about and learn more, this is a good place to start: http://fr.wikipedia.org/wiki/Madagascar
Briefly, I loved Madagascar. The best was :
- The Malagasy people, often triumphant in its poverty
- The Vezo clans, its sailboats and its migrations
- The Marojejy National Park, its forests and its lemurs.
Only stains on my trip: 4 things I intensely hated:
- The thugs running the dangerous transport system: the "taxi-brousses" or bush taxis
- The French baby-boomer tourists
- Prostitution
- Corruption and its effects