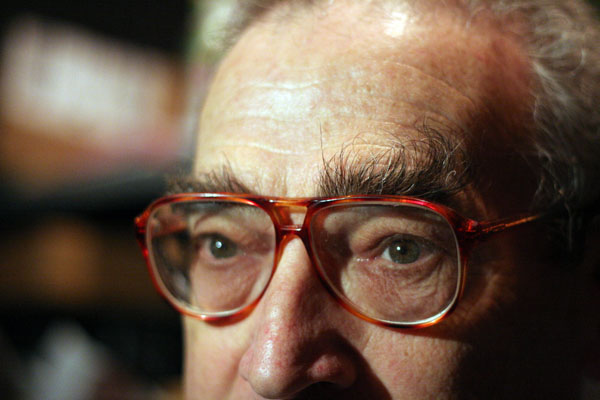 Reg Hartt is an icon in Toronto. Since the 60′s, he programs obscur films, offers spoken-word performances and inspires the artists living and gathering in his small underground cinema: The Cinforum.
I lived there.  Hartt was for me an extremely inspiring mentor and teacher.  The community he gathers became my school.  I am proud to take part in his Montreal return.  Last time he came here, more than 20 years ago, he filled up the Rialto many times.
Yes this spoken-word is about LSD and the 60′s, during which Hartt directed the cinema studies at Rochdale College, an alternative education experience that took place in a sky-scrapper where the Canadian government experimentally allowed the use of all drugs during many years.  "The higher you went, the higher you got".
But, knowing Reg, he will also talk about many other things…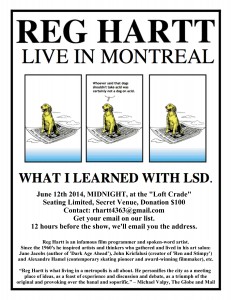 "What I Learned with LSD"
When:
12 juin 2014, MIDNIGHT
(so, during the night between the 12th and the 13th)
Where?
The Loft Crade is a private a secret pop-up venue.
The precise location will be revealed the day of the event to people who donated or contacted Reg directly: rhartt4363@gmail.com
How much:
Suggested donation: 100$.
How to book:
Seating VERY limited.  Join Mr. Hartt directly:  rhartt4363@gmail.com
Or
Make a PayPal donation by clicking the yellow button.  You will receive instructions to get to the Loft Crade (Once on the PayPal site, click "Don't have PayPal account" to pay with your credit card)