The silly folks have cut everything out of the great films starring Bugs Bunny and his pals they thought might offend anyone.  Many of the best are banned. See them as we are meant to.
Reg Hartt is Canada's most loved and hated film connoisseur. His past visits to Montreal regularly filled CINEMA V, THE SEVILLE, OUIMETOSCOPE, THE RIALTO, CAFÉ CAMPUS, THE METROPOLIS and CLUB SODA. Montreal's cultural scene is not what it once was. We have asked Reg Hartt to come to Montreal for an underground presentation of his programs. He said he would do it on his birthday as he loves Montreal.  The screening will be preceded by one of the spoken-word introductions that made his programs infamous in Toronto.  —The event organizers.
"The best part of a Reg Hartt Presentation is what he has to say."—Jane Jacobs
"The Sex and Violence Cartoon Festival"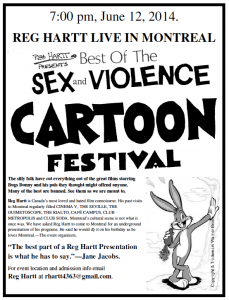 When:
June 12th 2014, 19h
Where?
The Loft Crade is a private a secret pop-up venue.
The precise location will be revealed the day of the event to people who bought tickets or contacted Reg Hartt directly: rhartt4363@gmail.com
How much:
20$ 
Includes admission to the other programs of the night, including "What I Learned with LSD"
How to book:
Seating VERY limited.  Join Mr. Hartt directly:  rhartt4363@gmail.com
Or
Buy a ticket through PayPal.  You will receive a confirmation email and, the day of the event, instructions to get to the Loft Crade
To buy, click the yellow button.  Once on the PayPal site, click "Don't have PayPal account" to pay with your credit card.
Links:
Site web de Reg Hartt
Wikipedia sur Reg Hartt